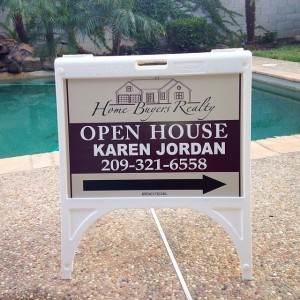 My Open house event this past weekend. I had a new listing come up last week. The seller of course wanted to ensure we hit the road running and wanted to host an open house. It also happened to be Memorial Day weekend. I was hesitant on hosting this open house because I thought "how many people will actually be around".
Of course I was not one of those who was planning on hitting the freeway and spending my weekend in traffic jams. So since I would be celebrating the holiday weekend close to home. I decided to stay and host the open house. I started marketing the home early in the week. Posting the date and time on all my social media and websites. It was going to be a very warm weekend, in the mid 90's. I planned the open house event for only two hours from 1:00 to 3:00 PM on Saturday. My co-worker mentioned that was a very short time frame for an open house. I kindly said "Well then I better sell it in two hours"!
I showed up early, set up my open house signs on all the major cross streets and before I could even get the door unlocked, here walks my first visitor of the day. I asked them to please wait as I opened the windows and turned on the lights! This was a sign, it was going to be a good day!
This first family came and stayed for quite some time. This was not a very large home yet they came in and went back out to the rear yard to check things out. I gave them their space but after a while I let them know all the repairs and upgrades the seller had completed. They thanked me and left.
Not long after this the crowd of families just kept coming. At just a little past 3:00 PM I decided it was time to close shop. As I was getting read to lock the door, here comes the last visitor of the day. Of course I graciously let him back into the home. He tells me he was rushing over and didn't want to miss the open house.
So my theory that having an open house during a major holiday weekend was not a good idea turned out to be wrong! It was a very successful weekend and my seller was ecstatic as he received multiple offers.  The buyers were just as happy as they had been looking for a home for several months and in about 30 days will be moving into their new home!
If you are interested in buying or selling a home in the Tracy, Manteca or Mountain House area please feel free to reach me at 209-321-6558 or visit my website for a list of homes in the area:  www.kjhbr.com
Home Buyers Realty . 24 West 10th Street- Tracy, CA 95376